Rota Dyer Machine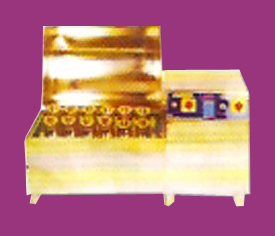 Rota Dyer Machine
---
Rota Dyer Machine is widely accepted by process Houses and Dyestuff Manufacturers as well as testing Labs. The Rota Dyer M/c. Saves lot of labour, Dyes & Chemicals, Cloth & Power. Perfect samples can be obtained in beaker Dyeing M/c, using only 5 to 10 gms. of cloth & comparatively . [! I very small am~unt of yes ~ ~hemicals. (The amount of Dyes & Chemicals 8.8.1. 27 . mayveryfordlfferentrecelples.SHARMARotaBeaker Dyeing Machine has been developed to enable Dyeing Technicians to establish receipies for Dyeing fabrics, Yarn & Testing of dye-stuff.The machine Consists of water bath (Covered by separate 5.5. Covered Filled in with glass wool which keeps Temp. Loses very much low. & This way it is better economical), Electrical immersion heaters & case with 18 or 12 Beaker (Made from 5.5. 316) & a control Panel to precisely control process Parameters.
Specification
Material
:
Made from Stainless Steel
Motor
:
1/10 H.P. Single Phase.
Heater
:
3 K.W./6K.W. cap. immersion Heaters
Temp. Range
:
Upto 100C (Controlled by Temp. Controller)
RPM
:
Revolution pf Motor is 20 approx.
Elect. Supply
:
3 Phase, 440 volts.