Laminar air flow bench (Vertical)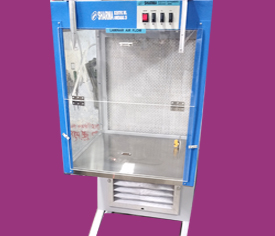 Laminar air flow bench (Vertical)
---
Laminar air flow bench (Vertical) The air drawn vertically on the work stage. An exhaust system can be provided (Optional) at the bottom of the air outside the work place.
Optional Accessories :
→ Satin finish S.S. Table top ( In lieu of For mica top)
→ Transparent front door
→ Static pressure inclined manometer
→ Built in U.V. germicidal light
→ Cock for gas,air or vacuum line
→ Tubular stand
→ Cold Rolled MS sheet body duly powder coated.
→ Stainless steel body duly polished.
→ Particle dusst count validation at site after installation.